Services Menu




Web Design Services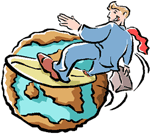 There are generally two types of web sites - productive and unproductive. The productive usually serve as a vital part of a business' operation. The unproductive web sites are usually static or unchanged that serve more of an advertising purpose.

Making a productive web site can be a tremendous, but worthwhile, task to take on. Besides the obvious aspect of appearance there are other important aspects that should be addressed. For instance, is the web site meaningful and productive? The meaningful aspect can usually be performed by most business owners themselves who understand the reason for having a web site but the productive aspect can usually be hampered by technical ability.

VCI can provide that technical ability leading to a very productive web site. If you would like to talk to a VCI rep about making a new or existing web site more productive please contact us at (800) 755-1239 or (270) 442-0060 or by emailing us.