Services Menu




Email+ Services
Our Email+ Services are composed of our VirusWatch and SpamWatch services to help protect businesses who maintain their own in-house mail servers. These services allow you to outsource your virus and spam needs to VCI allowing you to save time and money. Running an in-house mail server to block spam and viruses often requires expensive, proprietary software that normally only computer technicians can operate.

Here's how it works.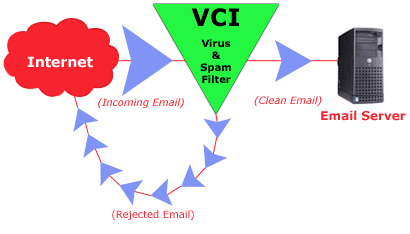 When an email is sent to your email address it is routed to the VCI mail server BEFORE it is sent to your in-house mail server.


The VCI mail server examines the email and considers it's source. The email is assigned a spam score.



If the email's spam score is above the spam threshold, the email is rejected.
Otherwise, the email is tagged with the spam rating and allowed to pass.



The email is then scanned for viruses. If a virus is detected in the email, the email is rejected.


If the email passes the spam and virus checks it is then delivered to your mail server.


Our Email+ Services start at $15 / month. For more information please contact VCI by calling (800) 755-1239 ext 540 or (270) 442-0060 ext 540. You can also email us here.